Banca Transilvania, the Bank of the Year on the card market, for the third consecutive year
Comunicat de presa
2016-05-13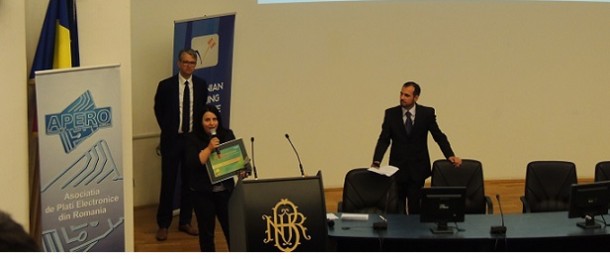 At the NONCASH Gala, BT was awarded the prize "Bank of the Year" for its performance in the card section, in 2015. The event was attended by Ms. Oana Ilas, Manager, Retail Product Development and Management of Banca Transilvania, and the prize came as reward for BT's results of last year:
Highest card balance on the market: 2.5 million, with a growth of 200,000 cards in 2015
Most issued debit cards: almost 400,000 Visa Electron BT cards
The best card use degree: 95.8 million transactions (without balance inquiry) and volumes of RON 34 billion; At present, one of five transactions with cards issued in Romania is generated by a Banca Transilvania card.
The most used card for payment at retailers - Visa Electron BT, with more than 29.4 million retail transactions and a volume of more than RON 3 billion in 2015
Within the same event, BT also received three other important prizes, i.e.:
"The most sold debit card" - Visa Electron from BT
"The Year's Shopping Card" - Visa Electron from BT
"The Year's First" - BT & Western Union – for money transfer at ATM on any MasterCard or Maestro card issued in Romania
The NOCASH gala has reached the 15th edition and it is the most important annual event in the field of electronic payments.