BT Mic granted 100 loans for education, with a positive impact for over 6,000 children
Comunicat de presa
2021-11-17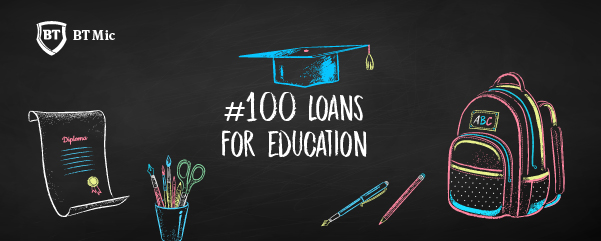 Since the launch, in February 2021, of the Education Credit, BT Mic - a company part of Banca Transilvania Financial Group - has so far supported 100 private schools and kindergartens, with a positive impact for over 6,000 children. The loans granted mean access, in a few days, to amounts of up to 200,000 RON with a European guarantee, for which companies can apply online, on the BT Mic website.
For 85% of the customers who applied for such a loan, BT Mic is the first creditor for that business.
The average amount/loan was 100,000 RON.
90% of the financing went to investments - renovations, extension of premises, infrastructure and IT platforms, other utility renovations necessary for the development of the activity.
The 100 loans went to projects spread all over the country.
"We arrived with this lending solution in 100 private schools and kindergartens, in a few months since its launch. The fact that this lending product was spent almost entirely to investments, shows us how extensive the transformation process of this sector is, during this period. That's why we come up with a customized approach, both as a product and as a dialogue with these entrepreneurs and we intend to stay close to them on the long run", states Cristina Sindile, Chief Executive Officer, BT Mic.

The loan, granted for a period of up to 7 years, is intended for kindergartens and schools, regardless of their form of organization - SRL, association or foundation, with at least 3 months of activity. The financing can be used for online platforms, licenses, applications, training for employees, educational events, arrangement and renovation of the premises, various expenses, etc. There is no need for own contribution – funds or material guarantees from the BT Mic clients as this is provided by the European Investment Fund (EIF). Larger projects, also intended for education, are financed by Banca Transilvania, based on the same guarantee partnership with European Investment Fund - FEI.

In addition to granting financing, BT Mic is next to the entrepreneurs through entrepreneurship education and acceleration programs, as well as campaigns and customers promotion on the BT Mic Blog. Some examples are: What are your plans for your business?, Start online, I am a BT Small customer and Buy from a small business.

BT Mic is intended for companies with an annual turnover of up to 1 million RON, from all fields of activity, and so far has supported over 16,000 customers in 3,000 municipalities.